Why Brainybatch Short term Education loan ?
Now it's Easy to pay School & College fees in EMIs
Your child's school/college gets the Annual fees from
Brainybatch on your behalf whereas you get the convenience
to repay the loan amount (Annual fees) in 3, 6, 9 or 12 months EMIs
Benefits of Short term Education loan
Higher Approvals
Upto 100% financing approval, because we have multiple partnered Banks/NBFCs
Zero processing fees
No Extra Charges for processing your loan application
Data Security
Your data is secured & safe.
We meet all the standards
for data privacy and security
Direct Fees transfer
Fees including all education expenses are directly paid to the school/college on your behalf
Simple Online Process
You can online apply & track your loan application via web
or mobile app with ease
No Collateral
Get loan on the basis of
your Income proof, no Security/ collaterals is required
Admission & Education Loan available
Brainybatch Education Loan Available for
How does it work?
Parent
Apply via Web or Mobile app & upload the required documents for the evaluation process.
Bank
Gives approval for the eligible loan amount within 48 hrs after applicant documents are submitted.
School/College
Receive the fee amount directly on behalf of parents from us. We will give parents/student the fee receipt from their educational institution.
Repayment cycle
Parents/students will pay back the loan amount in easy monthly EMIs over 3, 6, 9 or 12 months.
Do you have ID proofs?
Aadhaar, PAN card, visiting card/ id card copy
Do you have Income proof?
Salary slip, Last 3 months bank statement
Do you have Address proof?
Utility bills (Electricity Bill, Phone Bill, etc.), Passport
School owners can Increase Admissions by 20-50% & help their Student/Parent with Short term EduEMI facility to pay fees in EMIs Learn More
Short term Education Loan in
3 Easy steps
Check Eligibility & Fill loan application
Upload documents
Get Approval within 48 hrs*
Apply Now
We are available on: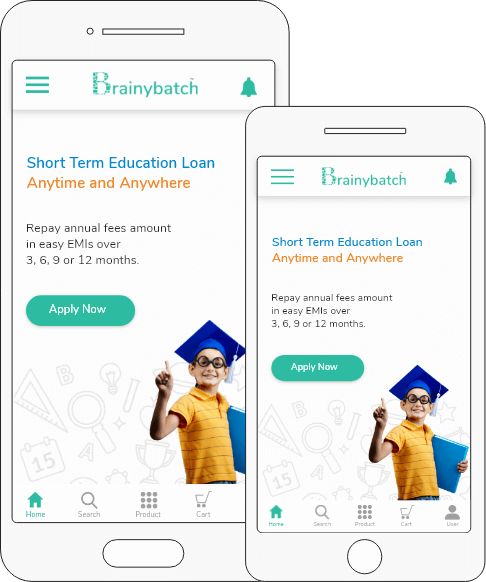 See What People Say About Us
Dr. Anjum Saba
Owner: Kidzee Angel Keepers, Bangalore
"Our interaction with Brainybatch team has been wonderful. They are prompt in their reply and are always available to assist us with any queries that we have."
Mr. Pardeep Johnson
Parent: Kidzee Angel Keepers, Bangalore
"Your commitment and perseverance to provide best services is awesome!"
Ms. Monisha
Student
"I had applied to my college through Brainybatch, On this Platform I had
options to choose from various colleges, I have to say my overall experience
was hassle free and process is Online."
Dr. P Srinivas Rao
Executive Deen: Don Bosco Group of Institutions, Bangalore
"Brainybatch is able to synchronise this effort integrating the college
and Student in one common platform."
Mrs. Sudha Reddy
Parent
"As a parent, I'm very satisfied with the services offered by Brainybatch and
it is a user-friendly platform where parents & students can choose a
course from various institutions. They can avail application online as well as
they can submit it application online through Brainybatch."

Mr. Paul Dasan
Parent: Jaganath vidyalaya senior secondary school
"Thank you very much It is very very good service doing by you. As per your vision, To increase the literacy rate of our country it will happen to early because of You people. Actually, I don't know you are doing this service, I prayed God Jesus to help me and I browse I found your app. I'll be thankful to my God and You."

Mr. Rajib Karmakar
Parent: Rahul International School, Nalasopara West, Mumbai
"Excellent service. Very useful. I was deeply gratified with the efforts of Team Brainybatch to get my loan approval process smoother and hassle free"

Mr. Naveen Kumar
Parent: Vibgyor high, Marathahalli, Bangalore
"I would like to express my gratitude toward Brainybatch Education Services for arranging and guiding me for my daughter education loan. I had always heard that loan procedures are long, tiring and with a lot of procedures and documentation. But Brainybatch procedures are very simple and in short duration, the loan was approved. their support proved a boon to me and under their guidance, my loan got approved in time and everything went smoothly. I am very thankful to Brainybatch"

Mr. Umashankar Shetty
Parent: Vagdevi Vilas School, Marathahalli, Bengaluru
"Brainybatch helped me in fulfilling my desire to give quality education to my daughter. Thanks to Brainybatch"

Mr. Abhilash Johney
Parent: Chathrapati Shivaji Dav School
"It's really very good and really appreciate you to giving education loan. And you people have done a good job"