Benefits of Short term Education loan
Higher Approvals
Upto 100% financing approval, because we have multiple partnered Banks/NBFCs
Zero processing fees
No Extra Charges for processing your loan application
Data Security
Your data is secured & safe.
We meet all the standards
for data privacy and security
Direct Fees transfer
Fees including all education expenses are directly paid to the school/college on your behalf
Simple Online Process
You can online apply & track your loan application via web
or mobile app with ease
No Collateral
Get loan on the basis of
your Income proof, no Security/ collaterals is required
Admission & Education Loan available
Brainybatch Education Loan Available for
How does it work?
Parent
Apply via Web or Mobile app & upload the required documents for the evaluation process.
Bank
Gives approval for the eligible loan amount within 48 hrs after applicant documents are submitted.
School/College
Receive the fee amount directly on behalf of parents from us. We will give parents/student the fee receipt from their educational institution.
Repayment cycle
Parents/students will pay back the loan amount in easy monthly EMIs over 3, 6, 9 or 12 months.
Do you have ID proofs?
Aadhaar, PAN card, visiting card/ id card copy
Do you have Income proof?
Salary slip, Last 3 months bank statement
Do you have Address proof?
Utility bills (Electricity Bill, Phone Bill, etc.), Passport
School owners can Increase Admissions by 20-50% & help their Student/Parent with Short term EduEMI facility to pay fees in EMIs Learn More
Short term Education Loan in
3 Easy steps
Check Eligibility & Fill loan application
Upload documents
Get Approval within 48 hrs*
Apply Now
We are available on: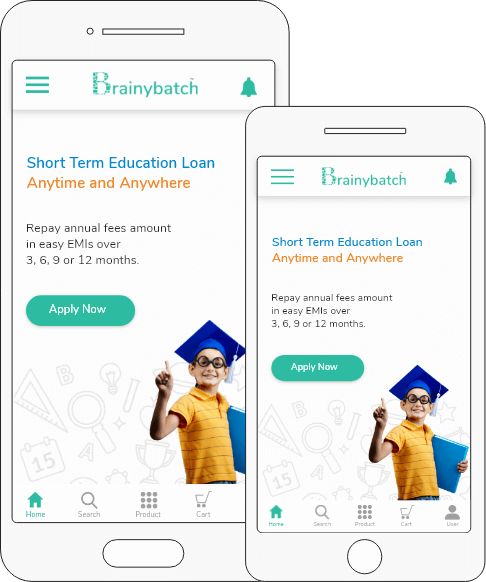 See What People Say About Us